The circular economy: business threat or opportunity? (Part II)
Submitted by

jana

on Sat, 03/21/2020 - 00:20
The authors of the working paper "The Elephant in the Boardroom: Why Unchecked Consumption Is Not an Option in Tomorrow´s Markets"[6] present 3 scenarios describing the impact of companies´ strategies to react to the challenges presented by climate change, resource scarcity and changing consumer behaviours. These scenarios can also be seen as three steps for a business on the path to becoming more circular.
Let´s have a closer look at these scenarios in the clothing industry, among the most polluting industries, which currently emits 10% of global GHGs (Zaffalon 2010) and causes up to a fifth of industrial water pollution globally (World Bank 2014a).
Scenario 1: Ignore
Natural fibres (e.g. cotton or wool) and synthetic materials (e.g. nylon, polyester, and acrylic) are used to make clothes. However, considering the environmental impact, there can be many pros and cons to be taken into account when comparing natural and synthetic materials. Cotton production, for example, requires up to 2.4 % of the world's arable land and is responsible for 24 % of the world's insecticide and 11 % of the world's pesticide sales (Davis 2003). Producing cotton for one T-shirt can use 2,700 litres of water (WWF 2013). On the other hand, production of synthetic materials consumes less water than cotton but can require 2-4 times more energy.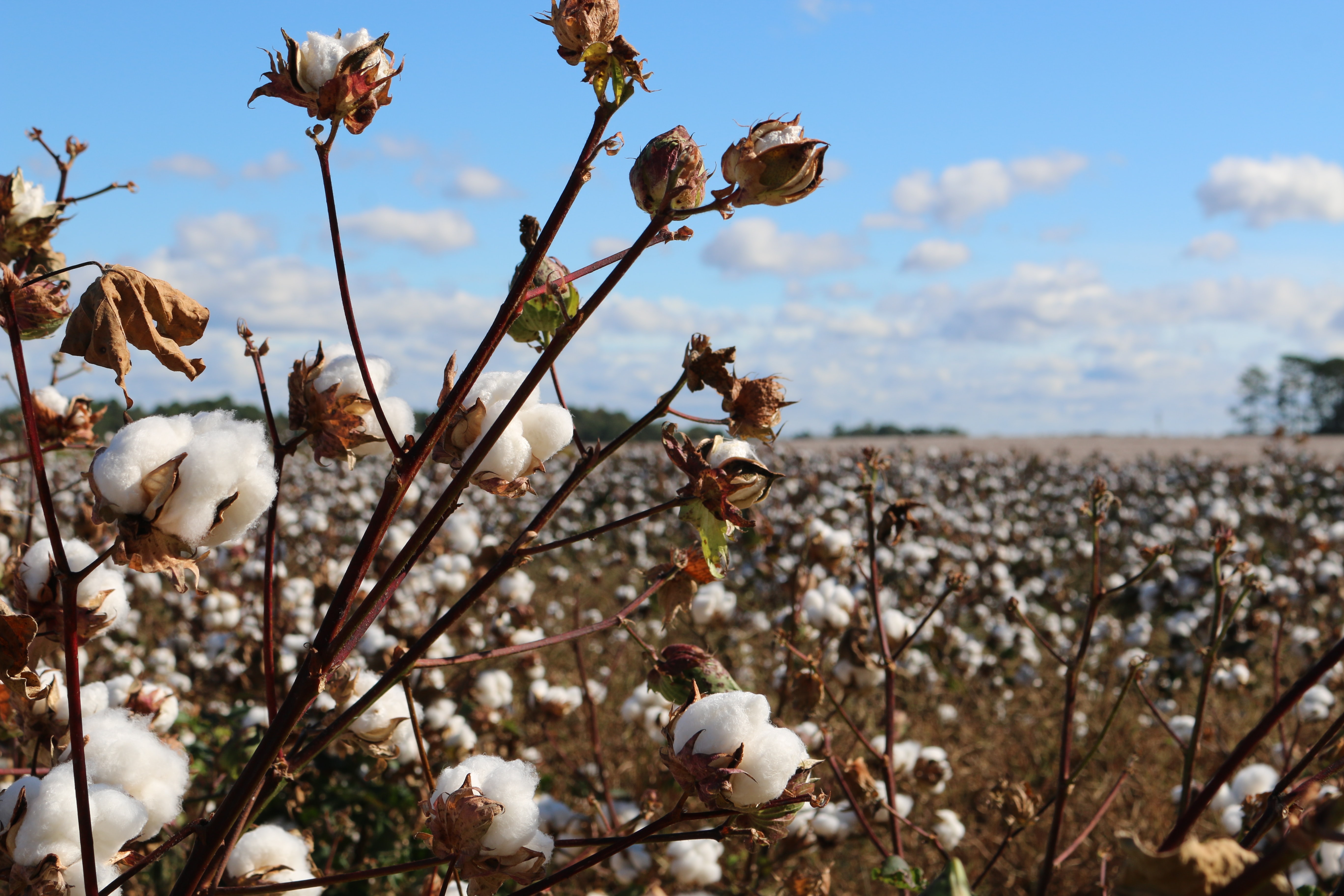 Photo by Trisha Downing on Unsplash
At the same time, the environmental impact of the clothing industry is increased by current trends, e.g. the falling price of garments and the popularity of 'fast fashion'. The fast fashion business model aims to get more styles to market as quickly and cheaply as possible. At the same time, the clothing industry has expanded beyond than the traditional spring/summer and fall/winter seasons. Due to these changes, in 2010, the fashion industry produced more than 150 billion garments, enough for every person in the world to have more than 20 new pieces of clothing (Kirchain et al. 2015). For example, Zara, a fast fashion leader, has between 50 and 100 micro-seasons per year (Siegle 2015).
This phenomenon creates an enormous amount of waste. According to the Commission's Joint Research Centre estimations (JRC), 6.4 million tonnes of new clothing (12.66 kg per person) were purchased in the EU in 2015. The European Environment Agency (EEA) estimates a 40% increase in the amount of clothing bought per person in the EU between 1996 and 2012. However, more than 30 % of the clothing we own has not been worn for at least a year. When finally discarded, more than 50% of the garments end up in mixed household waste and then in incinerators or landfills.

 

Photo by Markus Spiske on Unsplash

 

Maintaining a linear business model and taking advantage of low prices for clothes and fast fashion might work well for a while. However, there are several examples of companies (both large and SMEs and micro-companies) changing their approach and strategies towards more circular ones. Given increasing customer sensitivity to sustainability, developing socially and environmentally responsible strategies and image might help the business survive competition in the near future.
Scenario 2: Improve
Several businesses and stakeholders in the global clothing industry are aware of the need to reduce the industry's environmental impacts.
For example, the Sustainable Apparel Coalition (connecting over 180 brands, manufacturers, and suppliers) has built the Higg Index—a tool helping companies measure the environmental, social, and labour impacts of their products and services.[8]
Technology also plays a role in reducing waste and maximizing resource use. For example, Nike developed a new technology called Nike Flyknit, which reduces the manufacturing waste from each shoe by 60 %.[9]
With Infinited Fiber technology, cotton, viscose and other cellulose-based materials can be turned back into new natural fibres that are on par with viscose.[10] Also, re:newcell technology can dissolve used cotton and other natural fibres into a new, biodegradable raw material: re:newcell pulp. The pulp can be turned into textile fibre, fed into the textile production cycle and meet industry specifications.[11]
As mentioned above, taking first steps towards a more circular economy is crucial. However, implementing partial solutions might be only the beginning of a long journey.
Scenario 3: Embrace
A systemic approach is needed to address the social and environmental challenges presented by the textile and clothing industry.
As mentioned in the first part of this article, there are several strategies how to achieve that.
Designing clothes for longevity can limit environmental impacts and create jobs. Patagonia's Worn Wear program employs 45 people who make about 40,000 repairs to clothing per year.[12]
Other companies are aiming at the change in consumer behaviour. From selling clothing as tangible products, they have shifted to offering clothing as a service. For example, MUD brand customers can also lease their jeans and benefit from a free repair service. Worn-out items can be returned to be recycled into new denim products, keeping the material in use for a longer time. This brand philosophy reduces water use by 78% and CO2-eq by 61% per pair of jeans compared to industry standards.[13]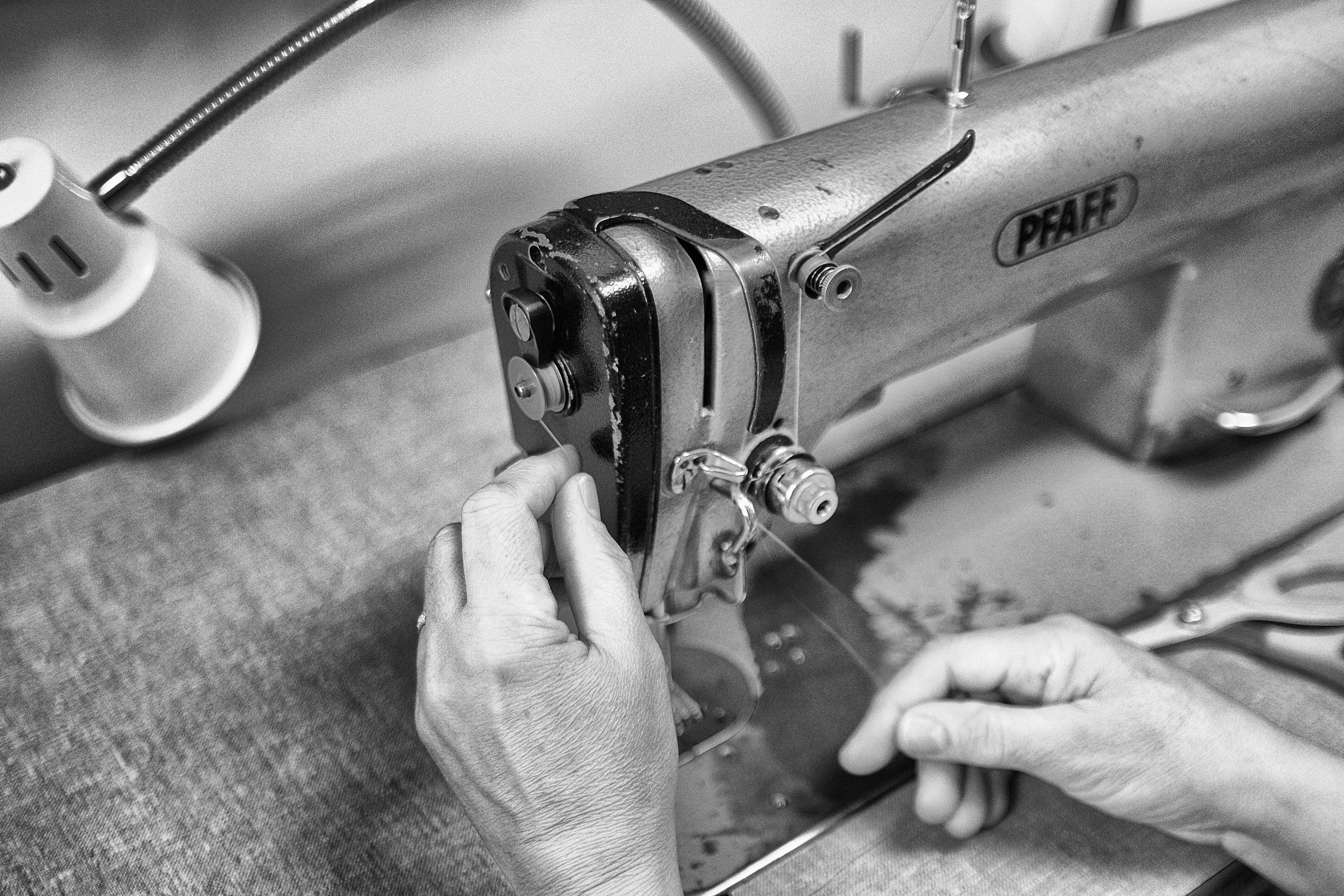 Photo by Edgardo Lagmay on Unsplash
Some companies are building their businesses around a return to slow fashion, an approach that changes the whole life cycle of textiles, from design to end of life, with the aim of making it sustainable. ECOALF (Spain) designs clothes using recycled materials—coats made from recycled water bottles, fashion-forward shoes, bags, shirts, sweatshirts, and trousers made from fishing nets, tires, cotton, coffee grounds, and wool. A lot of the recycled plastics come from the seafloor of Spain and now Thailand. ECOALF is also a certified B Corp.[14]
Some companies have built their entire business around the idea of eliminating waste through circular manufacturing processes. Adidas by Stella McCartney and partners have developed new eco-conscious products as part of adidas's open-source approach.[15] Adidas has been exploring ways to minimise waste via three focus areas:[16]
By using NuCycl™ by Evrnu technology, the Infinite Hoodie is made from 60 % NuCycl™ and 40 % organic cotton that has been diverted from landfills and can be remade into a high-performance product. The Biofabric Tennis Dress is a prototype concept incubated with Bolt Threads. The dress is made with cellulose-blended yarn and Microsilk™, a protein-based material that is made with renewable ingredients (water, sugar, and yeast) and can fully biodegrade.
Plastic waste is used to produce a yarn for the manufacture of adidas's Parley products, including footwear. In 2017, one million pairs of shoes were produced with Parley Ocean Plastic, in 2018 five million and the goal for 2019 was to produce 11 million pairs of shoes containing recycled ocean plastic. In addition, the world's first fully recyclable running shoe, the Futurecraft Loop, will be launched in 2021.
In September 2017, HNST ran a collection campaign where people could drop off their old and unworn denims. Of the more than 6000 old pairs of denims collected, approximately 50% were not suitable for reuse. These jeans were shredded and recycled in Germany, with the fibres mixed and processed back into yarn in Flanders. This yarn was then used to weave the HNST denim fabric made out of 56% recycled denim fibres. In 2018, HNST launched its first denim collection made of 56% recycled denim fibres and designed according to circular economy principles.[17]
What should I do now?
Feeling overwhelmed? Yes, you´re right, getting circular is not so easy.
But do not give up. There´s a lot of resources and support you could use. First of all, what do the authors of the working paper "The Elephant in the Boardroom: Why Unchecked Consumption Is Not an Option in Tomorrow´s Markets" recommend? According to them, there are 3 steps you can take:
Action 1: Do the Math
Understand what exceeding planetary boundaries means for the company's ability to meet demand for products with current practices, business models, technologies.
Action 2: Lead the Industry
Use your influence to change conversations with customers, investors, policy makers, and peers.
Action 3: Transform the Business
Align corporate strategy with tomorrow's markets within the constraints of the planet's resources; launch and integrate new and better ways of delivering value to customers
Questions to consider: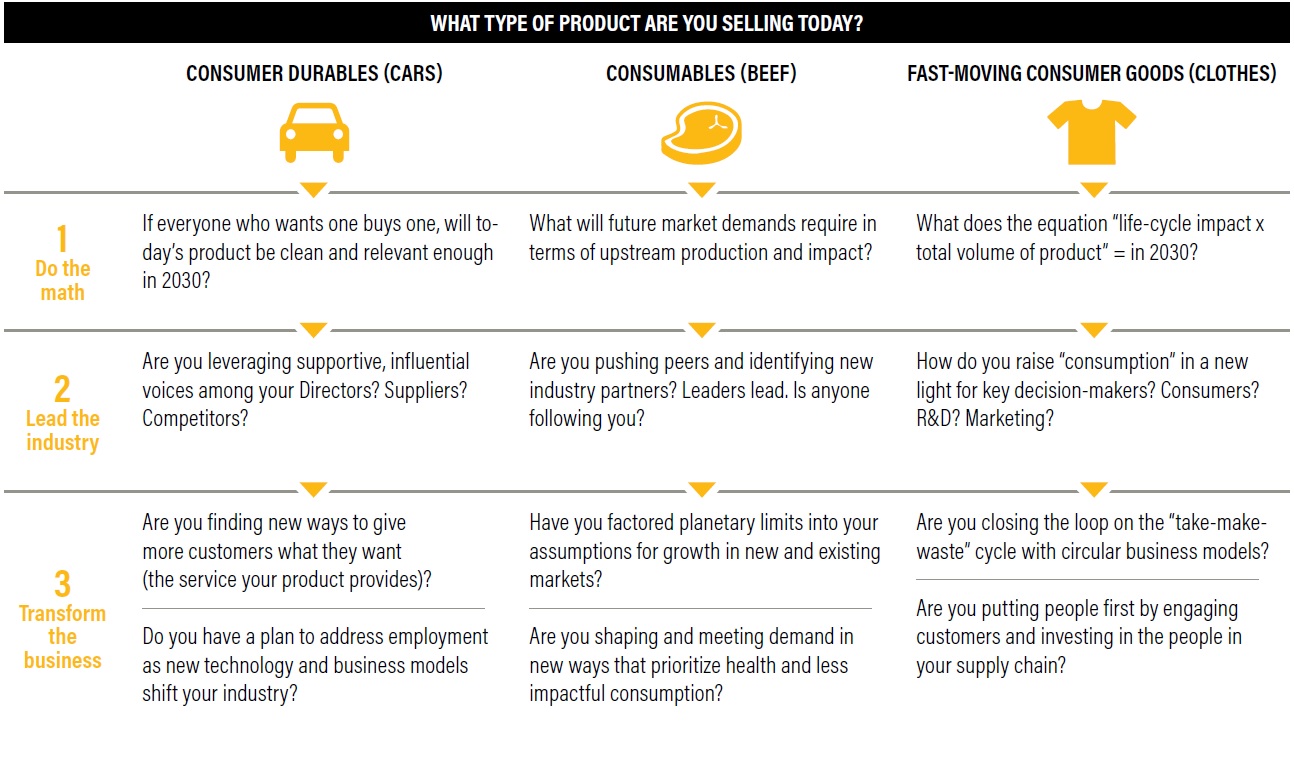 Source: Putt del Pino et al 2017
As for the circular economy, you can start with our checklist and factsheets on circular economy:
For more information you can visit the following:
If you are seeking individual advisory and consultancy services, you can contact the MOVECO project partner in your country:
References:
Circle Economy & Sustainable Finance Lab (2016): Master Circular Business with the Value Hill; available online at: https://assets.website-files.com/5d26d80e8836af2d12ed1269/5dea74fe88e8a5c63e2c7121_finance-white-paper-20160923.pdf
Davis, T., ed. 2003. Agricultural Water Use and River Basin Conservation. Gland, Switzerland: World Wildlife Fund. Available online at assets.panda.org/downloads/agwaterusefinalreport.pdf 
Fischer-Kowalski, M., M. Swilling, E.U. von Weizsäcker, Y. Ren, Y. Moriguchi, W. Crane, F. Krausmann, N. Eisenmenger, S. Giljum, P. Hennicke, P. Romero Lankao, A. Siriban Manalang, and S. Sewerin (2011): A report of the Working Group on Decoupling Natural Resource Use and Environmental Impacts from Economic Growth. Nairobi, Kenya: United Nations Environment Programme, International Resource Panel.
Holiday, C. (2003): Sustainable growth, the DuPont way; Harvard Business Review, 79 (8), pp 129-132.
Kharas, H. (2010): The Emerging Middle Class in Developing Countries; Working Paper No. 285. Paris, France: Organisation for Economic Cooperation and Development. Available online at https://www.oecd.org/dev/44457738.pdf.
Kirchain, R., E. Olivetti, T.R. Miller, and S. Greene (2015): Sustainable Apparel Materials. Cambridge, MA: Materials Systems Laboratory, Massachusetts Institute of Technology. Available online at http://msl.mit.edu/publications/SustainableApparelMaterials.pdf.
KPMG (2012): Expect the Unexpected: Building business value in a changing world; Available online at https://home.kpmg/content/dam/kpmg/pdf/2012/08/building-business-value-part-1.pdf 
Putt del Pino, S., Metzger, E., Drew, D., Moss, K.; (2017): The elephant in the boardroom: Why unchecked consumption is not an option in tomorrow's markets; Working Paper. Washington, DC: World Resources Institute, March 2017. Available online at https://www.wri.org/publication/elephant-in-the-boardroom
Siegle, L. (2015): 5 Tips for Shopping Smarter; The True Cost. Available online at: http://truecostmovie.com/learn-more/buying-better/
World Bank (2014): The Bangladesh Responsible Sourcing Initiative: A New Model for Green Growth?; Washington, DC: World Bank. Available online at http://documents.worldbank.org/curated/en/614901468768707543/The-Bangladesh-Responsible-Sourcing-Initiative-A-new-model-for-green-growth
WWF (World Wildlife Fund), (2013): The Impact of a Cotton T-Shirt: How Smart Choices Can Make a Difference in Our Water and Energy Footprint. January 16. Available online at https://www.worldwildlife.org/stories/the-impact-of-a-cotton-t-shirt.
Zaffalon, Valerio (2010): Climate Change, Carbon Mitigation and Textiles; Textile World 160 (4): 34. Available online at http://www.ccpittex.com/eng/texInfo/42652.html.
[1] For more information visit: https://www.circularchange.com/services
[2] For more information visit: https://bcsdh.hu/projects/circular-economy-platform/
[3] For more information visit: http://zelene-hospodarstvo.enviroportal.sk/en/circular-slovakia
[4] Samantha Putt del Pino, Eliot Metzger, Deborah Drew, Kevin Moss (World Resources Institute): The elephant in the boardroom: Why unchecked consumption is not an option in tomorrow's markets; https://www.wri.org/publication/elephant-in-the-boardroom
[5] For more information visit https://www.ellenmacarthurfoundation.org/circular-economy/what-is-the-circular-economy
[6] Samantha Putt del Pino, Eliot Metzger, Deborah Drew, Kevin Moss (World Resources Institute): The elephant in the boardroom: Why unchecked consumption is not an option in tomorrow's markets; https://www.wri.org/publication/elephant-in-the-boardroom
[7]Šajn, Nikolina (European Parliament Research Service) Briefing: Environmental impact of the textile and clothing industry; https://www.europarl.europa.eu/RegData/etudes/BRIE/2019/633143/EPRS_BRI(2019)633143_EN.pdf
[8] For more information visit https://apparelcoalition.org/the-higg-index/
[9] For more information visit http://www.nike.com/us/en_us/c/sustainability
[10] For more information visit https://circulareconomy.europa.eu/platform/en/good-practices/infinited-fiber-turns-cotton-rich-textile-waste-new-fibers-infinitely
[11] For more information visit https://circulareconomy.europa.eu/platform/en/good-practices/renewcell-dissolves-natural-fibers-biodegradable-pulp
[12] For more information visit http://www.patagonia.com/worn-wear.html
[13] For more information visit https://circulareconomy.europa.eu/platform/en/good-practices/mud-jeans-circular-denims-almost-never-die
[14] For more information visit https://circulareconomy.europa.eu/platform/en/good-practices/upcycling-oceans-collects-marine-trash-and-turns-it-quality-yarn
[15] For more information visit https://circulareconomy.europa.eu/platform/en/good-practices/adidas-and-stella-mccartney-present-prototypes-sustainable-and-recyclable-sportswear
[16] For more information visit https://news.adidas.com/tennis/adidas-by-stella-mccartney-debuts-performance-apparel-prototypes-in-continued-push-to-create-a-more-/s/987619ca-079c-48de-85c2-6958f77349fd
[17] For more information visit https://circulareconomy.europa.eu/platform/en/good-practices/hnst-radically-different-denim-recycled-denim-fibres